Orange County, California, is a vibrant cluster of towns that attracts visitors from all around the world. With its near-constant sunny weather, beautiful beaches, and rich culture, it's not hard to see why there are so many people living in this county of Orange!
Is it the right locale for you? Let's explore the reasons why Orange County, CA, is a great place to live.
Orange County is One of the Safest Places to Live in California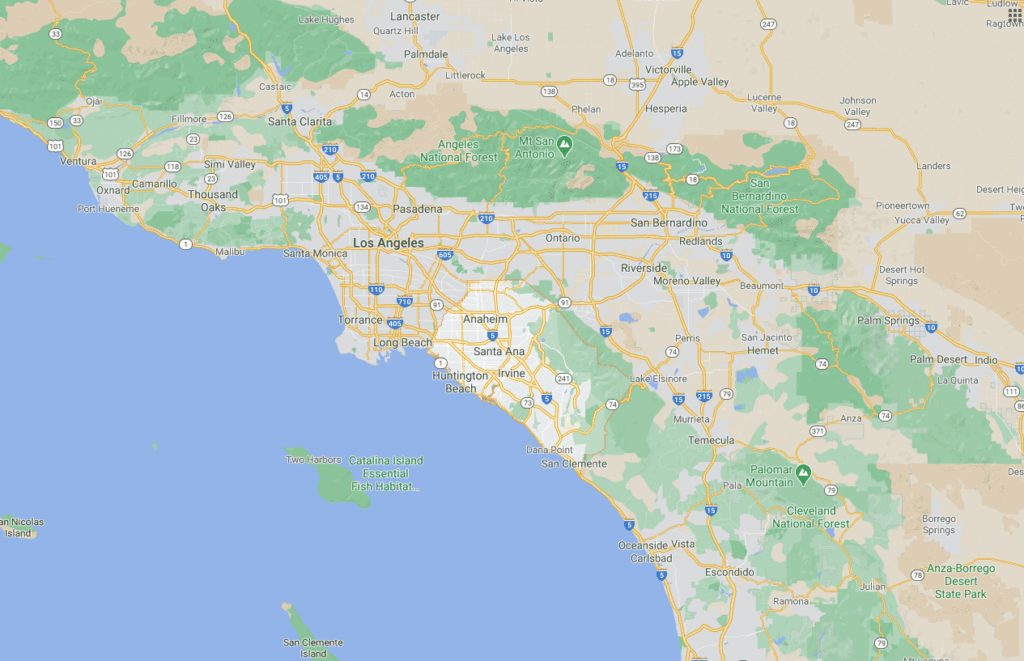 According to the 2017 FBI crime statistics and census data, many of Orange County's local cities have ranked among the top 20 safest cities to live in California. Patch.com states that "the evaluation is based on the number of reported violent crimes in each city per 1,000 people. If there was a tie, they also factored in the number of property crimes, including burglary, and car theft." Cities with inconclusive evidence were excluded from this public safety report.
Some of the safest cities within Orange County include:
Irvine (ranked number 2)
Rancho Santa Margarita (ranked number 3)
Yorba Linda (ranked number 4)
Laguna Niguel (ranked number 9)
Aliso Viejo (ranked number 10)
Mission Viejo (ranked number 17)
Other Orange County cities that did not crack the top 20 include:
Fountain Valley (ranked number 21)
San Clemente (ranked number 35)
Newport Beach (ranked number 38)
Lake Forest (ranked number 46)
Geography
Orange County can be subdivided into 4 different communities—northern, central, southern, and coastal. Each part of the county offers different attractions, topography, and cultural focal points.
North Orange County
The Northern section of the county was the first to be developed, and thus, makes it the cultural epicenter. North Orange County cities are also the closest to the other Los Angeles counties.
Most people often confuse which cities are a part of Orange County and which are not. For instance, Anaheim is often thought to be a part of Los Angeles county, when it is actually a major city in Orange County.
Other cities within Northern Orange County include:
Brea
Buena Park
Cypress
Fullerton
Garden Grove
La Habra
La Palma
Los Alamitos
Orange
Placentia
Stanton
Westminster
Yorba Linda
There are also large planned communities within these cities, encompassing a wide area. Anaheim Hills is one of the more notable.
Central Orange County
Central Orange County has easily become the business epicenter of the county. Many of the mid-rise office buildings and office parks scattered throughout all hold some of the top consulting, finance, and real estate firms. In fact, Orange County is an excellent place to not only be in business, but to grow your business.
Cities within this region include:
Costa Mesa
Fountain Valley
Irvine
Santa Ana
Trabuco Canyon
Tustin
Villa Park
South Orange County
While the northern and central parts of this county are mostly flat land, Southern Orange County could not be more different. Most of the region stands atop rolling hills and the Santa Ana mountains.
Some of these cities will also overlap with the communities along the coastline. Cities within the southern region include:
Aliso Viejo
Ladera Ranch
Laguna Beach
Laguna Hills
Laguna Niguel
Laguna Woods
Lake Forest
Mission Viejo
Rancho Santa Margarita
San Clemente
San Juan Capistrano
Orange Coast
The Orange Coast completes the rest of Orange County. Outside of Anaheim in the north, this region has perhaps the densest tourist appeal. This is no surprise, considering the wide beaches and many coastal attractions.
Cities and beaches within this region include:
Dana Point
Huntington Beach
Laguna Beach
Newport Beach
San Clemente
Seal Beach
Economy
Overall, Orange County's economy is diverse and optimistic. In fact, the county produced an estimated Gross Regional Project of around $256 billion in 2018 alone. As of July 2019, it has also boasted the lowest unemployment rate of all of Southern California's counties at 2.8 percent. For comparison:
San Diego County (3.3 percent)
San Bernardino County (3.9 percent)
Los Angeles County (4.1 percent)
Riverside County (4.3 percent)
California state average (4.40 percent)
Healthcare
Public health is more important than ever in these times. Orange County recognizes its citizens need access to all sorts of healthcare services, which the county government is more than happy to provide. The county's intuitive site also functions as a wealth of human resources for you to peruse, should you need help with anything.
Orange County also offers aid to homeless people in the only designated Office of Care Coordination. This office aims to combat the county's homelessness by "working with cities and community-based organizations to…coordinate public and private resources to meet the needs of the homeless population in Orange County." They offer resources, outreach programs, funding for shelters, and more.
Of all the county departments, you know that Orange County's healthcare agency is looking out for you and your family.
Politics
The Northern region of the county is largely comprised of Democrats. More affluent and primarily white neighborhoods such as Anaheim Hills and Villa Park, however, tend to be mostly Republican. South Orange and the Orange Coast also skew oddly Republican in a largely Democratic state.
As a result, the county government tends largely be made up of Republicans. This includes both local leaders and elected officials alike. Most of the Board of Supervisors and other county officials is comprised of members of the Republican party, with just 1 Democrat and 1 nonpartisan member.
Orange County is also becoming more and more diverse every day. The county consists of:
40 percent white
35 percent Hispanic
20 percent Asian (including Pacific Islanders)
2 percent African-American
Education
Orange County heralds a variety of great preschools, friendly school districts, and private schools. UC Irvine is the most notable college of the area. The university ranks among the nation's top 50 college programs for the sciences, arts, and medicine.
After studying, students can then kick back and enjoy all the fun things to do in the various cities around the county.
Orange County Has a Rich Culture
With all the different towns and cities clustered within Orange County, you can always find something to do!
The main local news outlets (the Orange County Register, the L.A. Times' Daily Pilot, and Voice of O.C. respectively) are on top of any breaking news stories within the region. They will cover everything from election results to the latest Los Angeles Angels game, so you will never feel out of the loop.
Downtown Santa Ana is one of the more modern nightlife scenes in the county. In fact, there is always something going on in Santa Ana, CA! You can head over to the Bowers Museum if you are looking for something artsy, or down to the Mix Mix Kitchen Bar for some unique eats. Biking along the Santa Ana River can be a refreshing experience as well.
Laguna Beach's Arts District is certainly a wonder to behold. The Pageants of the Masters and the Festival of the Arts produce amazing pieces of art each and every summer. The festival itself boasts of local art that you can purchase or admire in the county's various galleries. They also hold yearly art competitions, with the most famous being the Pageants of the Masters.
This is perhaps one of the most unique art productions in the world. The Pageant is a stage production of living art, where actors, make-up artists, set designers, costume designers, and more recreate some of the most famous paintings on-stage.
Orange County is a Vacation Hub
Theme parks and miles-long beaches attract millions of tourists every year. Disneyland tends to be the biggest family attraction, but there are plenty of other activities to do here.
You can catch a game at the Angel Stadium and Honda Center, or take a hike through beautiful Crystal Cove National Park.
South O.C. and North O.C. alike have some amazing cuisine. Because of its ethnically diverse population, you can be sure to find tons of culturally-enriching foods that can satisfy any particular craving.
Take an adult daytrip to wine and dine at any of these great places:
Little Saigon in Garden Grove, home to the largest Vietnamese population (and cuisine) in the nation
Little Arabia in Anaheim, where hookah lounges and solid Mediterranean food abound
Harbor Boulevard, where you can get some of the best Korean BBQ and food this side of Orange County
Brea, a posh town full of the trendiest restaurants, bars, and shops
The Orange County Fair in Costa Mesa, complete with live cooking competitions, fresh food, and superb live entertainment
Various food booths scattered all around the county for a unique flavor you cannot find anywhere else
Seal Beach, Huntington Beach, and Laguna Beach are all popular tourist destinations where you can relax and have fun in the sun. You can also rent a cozy summer home above the water on Balboa Island off of Newport Beach. An O.C. home with a spectacular beach view doesn't sound all that bad, does it?
The quality of life in Orange County is only getting better. There are so many great reasons to live here, so why not come down and take a look?